The church of Curahuara de Carangas represents a unique combination of South America's ancient heritage and Spanish influences. In the pre-Hispanic period, at the spot where today people kneel in prayer, the Inca chief Túpac Inca Yupanqui plunged his golden spear into the ground following a battle. In Quechua, the language of the Incas, "golden spear" is "kori wara", which was rendered into Spanish as "Curahuara". So the church bears witness to its heritage in its very name. The exterior of the church of Curahuara de Carangas is modest, built low of clay bricks and topped by a roof thatched with straw. The surprise to be found in the interior is one of the earliest and most complete cycles of frescoes in Bolivia, which has earned the church the epithet "the Sistine chapel of the Altiplano". The pulpit dates from the time of construction, as do two stone altars, the ceiling frescoes and most of the paintings in the chancel. The sacristy, perhaps one of the most beautiful rooms in Bolivia, is intended to depict paradise, with flowers, birds and angels.
Like other churches in Bolivia, Curahuara de Carangas was built by local craftsmen and artists. These churches are interesting not only because they give an insight into indigenous craftsmanship and art, but also because they show how the people's theology took up ideas from the old indigenous religions. For example, gardens of paradise are painted on the walls, because the indigenous population believed that paradise was to be found in the green, flowerfilled lowlands with their fruit trees and twittering birds, not somewhere up in the clouds. Whole series of angels are depicted; angels were used to symbolize ancient gods or to represent the functions and powers attributed to them. For instance, Saint James, known in Spanish as Santiago, also fulfils the function of Illapa, god of thunder. For when the Spanish attacked with Saint James's protection at the decisive battle against the Incas at Cuzco, there was such a violent storm of thunder and lightning that the Incans believed that Illapa had crept into Saint James's body – to fight on the side of the Spaniards.
The restoration of the roof and the exterior walls financed by the Federal Foreign Office was necessary because they were badly dilapidated and unsound, thus endangering the unique frescoes. A modern lighting system which will not damage the valuable frescoes was installed in the interior, invisible to visitors, and exterior lighting was installed. Work on the main altar revealed a hidden fresco which will be accessible to visitors once it has been restored.
Project: Dr. Philipp Schauer, Ambassador of the Federal Republic of Germany in La Paz
Promoted by: Cultural Preservation Programme of The Federal Foreign Office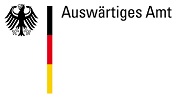 Source: Worlds of Culture, Ed. Federal Foreign Office