The German-born artist Hansen Bahia created a unique breadth of expressionist art. His works provide a good example of the influence by German immigrants on, and contribution to, the cultural richness of the South American country.
Nearly four per cent of Brazil's 190 million inhabitants are of German descent. Most of them live in the south of the country, where their influence on culture and society is most perceptible. However, German immigrants have also left their mark on the northeast of the country. An outstanding example is the German-born artist Karl-Heinz Hansen, known in Brazil as Hansen Bahia, who created numerous impressive works of art in Salvador.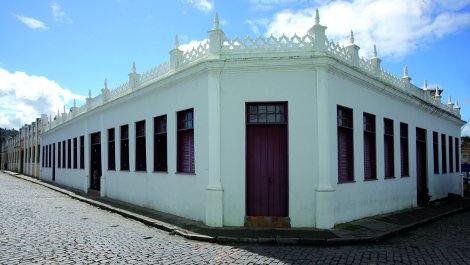 Hansen Bahia's works are strongly influenced by his chequered biography. Karl-Heinz Hansen, born in Hamburg in 1915, was a sailor, sculptor, painter and film-maker. However, he devoted most of his artistic career to woodcuts. He produced his first woodcut in 1946, shortly after the end of the Second World War. He took a simple piece of wood and, using the sharpened spokes of an umbrella, scratched into it motifs of Germany in the process of reconstruction. In 1949 he left Germany and, after a short stay in Sweden, emigrated to Brazil. He settled in São Paulo and worked for a big publishing company. During this period he created numerous woodcuts, which were displayed in larger exhibitions and at Biennales.
His move to Salvador de Bahia in 1955 was a turning point in Hansen Bahia's life. Even though he visited Germany from time to time, Salvador de Bahia became his second home. Here he created numerous works reflecting a symbiotic relationship between traditional German artistic craftsmanship and Brazil's rich imaginative culture and exuberance. Hansen Bahia owes his name to the famous Brazilian poet Jorge Amado, who bestowed on him the epithet Bahia in honour of his work. Later Hansen Bahia donated his most important works to the town of Cachoeira. He also founded the Hansen Bahia Foundation, which has managed and taken care of his artistic legacy since his death in 1978.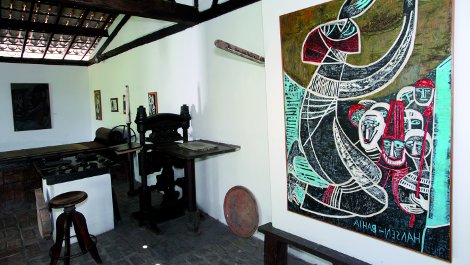 Over the years Brazil's tropical climate has damaged the very delicate work of the woodcuts and threatened to destroy them completely. Hansen Bahia's work was in grave danger of being lost forever. In response, the Federal Foreign Office provided funds under its Cultural Preservation Programme for the restoration of 78 woodcuts, which were then put on display to the public at the Goethe-Institut in Salvador.
Although Hansen Bahia's art is only one example of the diverse cultural exchange between Germany and Brazil, it is an impressive testament to the imprint left by German immigrants on the South-American country's heritage.
Project: Martin Mahn, German Consulate-General in Recife
Promoted by: Cultural Preservation Programme of The Federal Foreign Office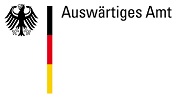 Source: Worlds of Culture, Ed. Federal Foreign Office