Situated in the heart of the Afghan government quarter in Kabul, Kuti e Baghtsha, the "house of the little garden", contains exquisite examples of Afghan art. Abandoned for many years, the Pavilion is now used by the Afghan President when receiving guests.
The Afghan Emir Abdur Rahman Khan – the Iron Emir – had his seat of government built in the centre of Kabul in the form of a fortified citadel (Arg). As the "nucleus" of the Afghan nation, the Arg was of historical importance. In the last century, the palace complex was the seat of several generations of rulers who wrote Afghan history. Kings were crowned and rulers assassinated here. In the southern corner, a small pavilion was built with rich decorations consisting of lavish wall paintings, stucco, carvings and gold leaf embellishments of the highest artistic standard. An oriental garden was created around the pavilion. Known as Kuti e Baghtsha, the "house of the little garden", the elaborately decorated pavilion was constructed between 1880 and 1901 to plans by Emir Abdur Rahman Khan. From 1924 to 1931, the Emir's Pavilion Kuti e Baghtsha housed part of the Afghan national museum.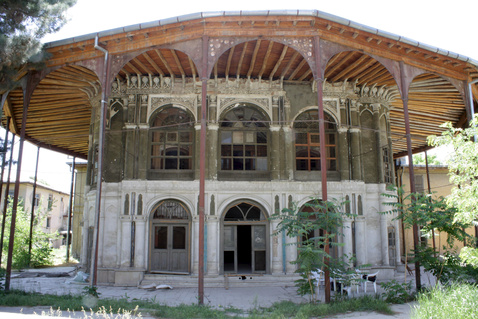 After the invasion of Soviet troops in 1979, the Arg complex was damaged and fell increasingly into disrepair. The restoration work undertaken in 1990/91 was destroyed in the prolonged civil war that followed. After the end of the Taliban regime in 2001, work on the Arg complex began with a view to using it again. However, Kuti e Baghtsha was not included in this project until 2008 and became increasingly dilapidated. Due to its uniqueness, the Afghanistan Rehabilitation Group, a German society established for this purpose, carried out restoration work from 2008 to 2012 with the support of the Federal Foreign Office and the Gerda Henkel Foundation as well as with the expert assistance of the Department of Restoration at the TU München under the direction of Prof. Emmerling.
Parallel to the restoration work, a training programme was set up to enable young Afghan men and women to take part in a two-year further training course to qualify as conservators specialising in artisan skills.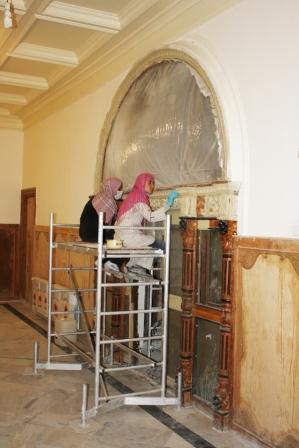 Due to the very different kinds of damage, the restoration required expertise from diverse disciplines. In addition to traditional building techniques using clay, the conservators had to relearn traditional painting techniques. The original plaster was not replaced but fortified. Irreparable stucco was re-formed. Damaged wall paintings were also repaired, while gaps were laboriously filled.
Today Kuti e Baghtsha is used for receptions hosted by the Afghan President.
Project: Sekandar Ozod-Seradj, Head of the project and chairman of the Afghan Rehabilitation Group; Werner Müller, Deputy chairman of the Afghan Rehabilitation Group
Promoted by: Cultural Preservation Programme of The Federal Foreign Office